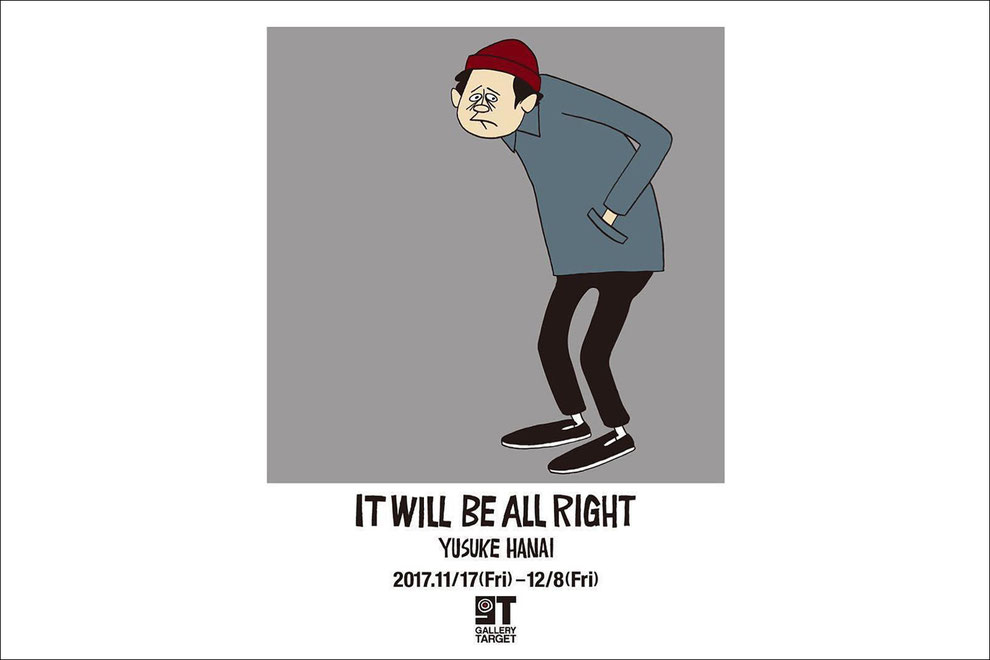 "IT WILL BE ALL RIGHT"
by 花井祐介
11月17日(金) – 12月8日(金)
GALLERY TARGETでは11月17日より花井祐介による個展"IT WILL BE ALL RIGHT"を開催いたします。
ストリートやサーフカルチャーにおいて圧倒的な支持を得る花井の無国籍な懐かしさを感じさせるアートワーク。
今年7月に発刊した自身初となるアートブック"ORDINARY PEOPLE"の中でもその世界観は堪能する事が出来ます。
初版は瞬く間に完売となり花井の"これまで"を纏めた1冊となりました。
本展覧会では"これから"をテーマに新たな表現に対峙します。
"IT WILL BE ALL RIGHT"
11月17日(金) – 12月8日(金)
Open 12-7 pm (日曜・祝日休廊)
*オープニングレセプション:17日(金)7 – 9 pm
*展覧会は17日(金)12 pm からオープンしています。
*本展覧会会場において2018年5月にMEDICOM TOYより発売予定のフィギュアVCD "Mr.Stoop"の国内販売のみの先行受注を受付けいたします。
1978年生まれ
イラストレーター/ファインアーティスト
2006年よりCalifornia、Laguna BeachにあるThe Surf Galleryにて作品の展示を開始。
翌年には世界中のアーティストを集めて開催したグループショーThe HAPPENINGに参加、NewYork, Sydney,Tokyo, London, Parisにて作品を発表。
50~60年代のカウンターカルチャーの影響を色濃く受けた作風は、日本の美的感覚とアメリカのレトロなイラストレーションを融合した独自のスタイルを形成している。
VANS,NIXON,BEAMS等へのアートワークの提供など、国内外問わず活動の幅を広げている。
-
"IT WILL BE ALL RIGHT"
by Yusuke Hanai
Nov. 17th (fri) – Dec. 8th (fri)
GALLERY TARGET is pleased to announce "IT WILL BE ALL RIGHT", a solo exhibition of new works by Yusuke Hanai
Artworks projecting borderless nostalgia, Hanai is one of an acclaimed artist in both street and surf culture. In July, he has self-published a first book "ORDINARY PEOPLE". This first edition is no longer available but "ORDINARY PEOPLE" is a collection of his visions and expressions up till 2017.
In this exhibition, Hanai will be exploring a new way of expressing the up coming.
"IT WILL BE ALL RIGHT"
Nov. 17th (fri) – Dec. 8th (fri)
Open 12-7 pm (except on sun. & holidays)
* Opening reception starts from 7 – 9 pm on Nov. 17th (fri)
* Exhibition will be open to public from 12 pm on Nov. 17th (fri)
* During the exhibition, we only will be taking domestic pre-orders for "Mr. Stoop" a figure VCD made BY MEDICOM TOY scheduled to be released in May 2018.
Yusuke Hanai
Born 1978.
Illustrator / artist.
Around 2006, Hanai started showing his works through The Surf Gallery, CA.
The next year, Hanai participated to a group show called "THE HAPPENING".
Since then he has been showing his works in New York, Sydney, Tokyo London and Paris.
As an illustrator, Hanai provides art works to brands such as VANS, NIXON, BEAMS …
He actively involved in much projects both in and outside of Japan.